GTX-104: Subarachnoid Hemorrhage (SAH) – Intravenous Infusion
Clinical stage: PK bridging study results reported 5/18/22 met all endpoints; FDA Type C meeting schedule 1Q'23; Start of Phase 3 safety study expected 1H'23*
Product Description: Novel aqueous nanoparticle formulation of water insoluble nimodipine, that enables a continuous peripheral IV infusion for rapid and enhanced bioavailability. Acasti believes GTX-104 can potentially improve the management of hypotension and vasospasm in SAH patients, thereby improving patient outcomes and potentially preventing death and/or reduce long-term disability.
Disease Target: SAH is a rare and life-threatening medical emergency in which bleeding occurs over the surface of the brain in the subarachnoid space between the brain and skull. A primary cause of such hemorrhage is rupture of an aneurysm or ballooning of a weakened blood vessel wall. Notably, 10-15% of SAH patients currently die before reaching hospital and 20% of admitted patients die in hospital2.
Target Market: SAH affects approximately 50,000 patients per year in the U.S.3 with an estimated addressable market of over $300 million4. Nimodipine, the current standard of care for SAH, is only available as an oral capsule and a liquid solution in the U.S., making drug delivery very difficult particularly when a patient is unconscious. Oral nimodipine also has suboptimal absorption when administered through the gut5, making control of hypotension difficult.
PK Study Data
Superior Value Proposition
GTX-102: Ataxia-telangiectasia (A-T) - Oral Mucosal Spray
Clinical stage: PK bridging study topline results announced on 12/28/22 met all outcome measures; Type B meeting with FDA expected in 2H'23; start of Phase 3 expected 2H'23*
Product Description: A novel and convenient oral mucosal spray formulation of betamethasone intended to potentially improve neurological symptoms of A-T, including clinical assessments of posture and gait disturbance, and kinetic speech and oculomotor functions. Currently, there are no FDA approved pharmacotherapies for A-T. Acasti also believes that GTX-102 could ease drug administration for patients experiencing A-T given its application as a more convenient, concentrated and metered betamethasone liquid spray onto the tongue, as these A-T patients typically have difficulty swallowing6.
Disease Target: A-T is a progressive, neurodegenerative genetic disease that primarily impacts children causing severe disability, for which no treatment currently exists. A-T affects many parts of the body, including areas of the brain, causing difficulty with motor function and motion. The disease is also associated with weakening of the immune system predisposing patients to infection, and with faulty repair of damaged DNA that may increase the risk of cancer7.
Target market: A-T affects approximately 4,300 patients per year in the U.S.8 with an estimated addressable market of approximately $150 million4.
Zannolli Clinical Data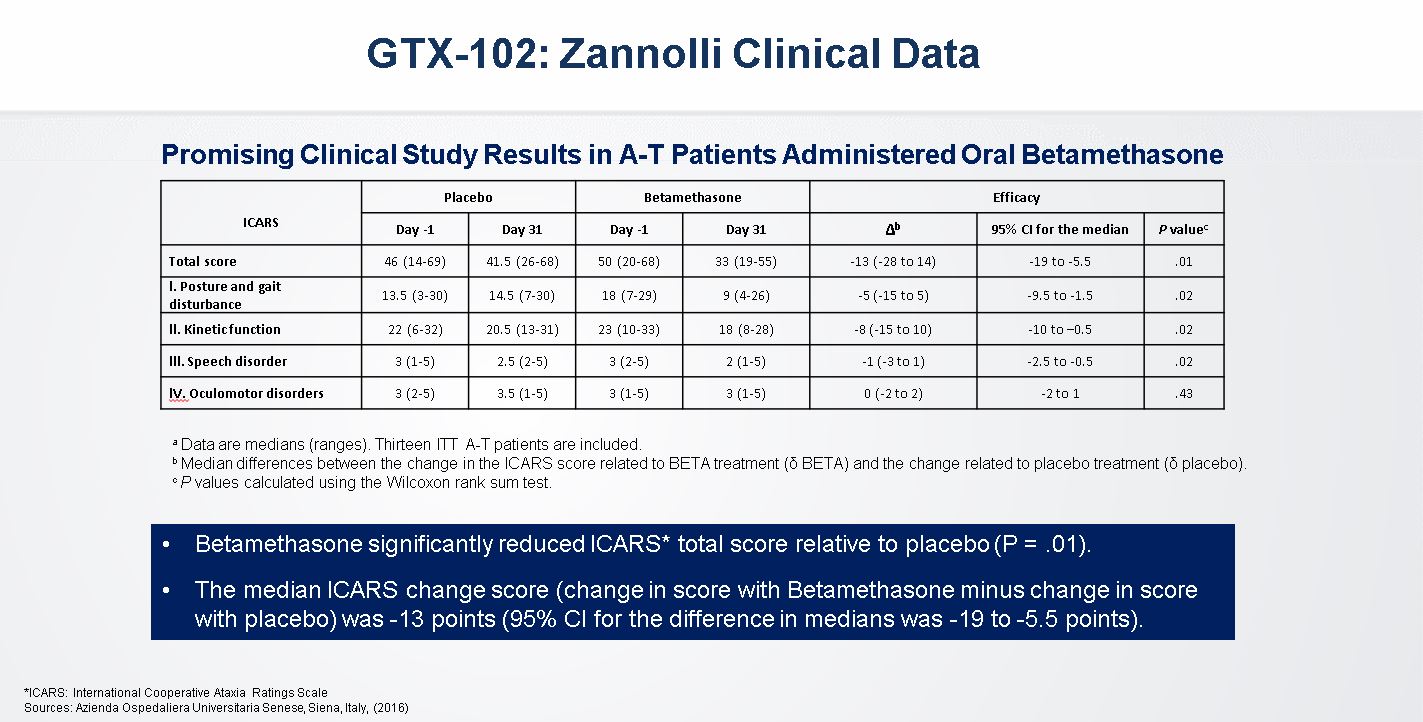 Nonclinical PK Comparison
GTX-101: Post Herpetic Neuralgia (PHN) - Topical Spray
Clinical Stage: Single Dose study topline results announced on 12/22/22 met all outcome measures; Initiation of Multiple Ascending Dose (MAD) study expected in 2H'23.
Product Description: A novel, topical bio-adhesive film-forming spray of bupivacaine for the treatment of PHN, which could provide significant benefits over the current standard of care which includes oral gabapentin, lidocaine patches, topical pain medications and opioids, including greater convenience, and faster onset and longer duration of action, and GTX-101 is a non-narcotic and not prone to abuse. GTX-101's metered-dose of bupivacaine spray forms a thin bio-adhesive topical film on the surface of the patient's skin, which enables a touch-free, non-greasy application. No skin sensitivity was reported in a Phase 1 study.
Disease Target: PHN is a persistent and often debilitating neuropathic pain caused by nerve damage from the varicella zoster virus (shingles). PHN pain varies from mild to excruciating in severity, and may persist for months and even years, adversely impacting quality of life and leading to social withdrawal and depression. As a result, PHN is often cited as the leading cause of suicide in chronic pain patients over the age of 709.
Target market: GTX-101 represents an attractive alternative to prescription lidocaine patches and topical pain medications with a total addressable US market of $2.5 billion. The initial target market, PHN, affects approximately 130,000 patients per year in the U.S.10 with an estimated addressable market of approximately $200 million4. Current treatment of PHN most often consists of oral gabapentin and lidocaine patches, and refractory cases may be prescribed opioids to address persistent pain. Current lidocaine patches used for PHN are suboptimal, as these patches are difficult to use; 40% of patients experience insufficient pain relief, the analgesic effect could take up to 2 weeks, and many patients suffer from skin sensitivity and irritation4. Unlike oral gabapentin and lidocaine patches, Acasti believes that the biphasic delivery mechanism of GTX-101 has the potential for rapid onset and continuous pain relief with regular use11.
* Potential fast-track status possible where clinical Phase 2 trials would not be required assuming PK Bridging Studies for GTX-104 and GTX-102 meet their endpoints
** Single Dose (SD) and Multiple Ascending Dose (MAD)
References:
The Orphan Drug Designation program provides orphan status to drugs and biologics which are defined as those intended for the treatment, prevention or diagnosis of a rare disease or condition, which is one that affects less than 200,000 persons in the United States or meets cost recovery provisions of the Orphan Drug Act. The status helps incentivize the development of therapies to treat unmet medical needs by providing a company with seven years of exclusivity rights once a drug reaches market.
Rinkel G. 2016
Becske T. et al 2018
Fletcher Spaght Inc., Market Research Report
Soppi V. et al 2007
Lefton-Greif 2000
U.S. National Cancer Institute, Ataxia-Telangiectasia (2015)
National Organization for Rare Disorders, Ataxia-Telangiectasia (2015)
Hess et al 1990
CDC Morbidity and Mortality Weekly Report (2008)
Grace GTX-101 Phase 1 Study Report